Healthy change has arrived in Roseville
Our new and enlarged Riverside Medical Offices combines top doctors, high quality care and advanced medical technology in the same convenient location in Roseville – so you can stay healthy close to where you live and work.
Learn more about our newest medical offices.
Protect yourself and your family
Getting a flu vaccine this season is the best way to keep you and your family from getting sick. Flu vaccines are also:
Safe and won't give you the flu.
Given at no charge to members at our medical facilities.
Flu shot dates and locations are subject to change.
Before you visit, call 1-800-573-5811 or go to kp.org/mydoctor/flu for the most up-to-date information.
Kaiser Permanente Announces Land Purchase Completed for New Medical Center in Downtown Sacramento Railyards
Kaiser Permanente announced it has completed the purchase of approximately 18 acres at the Sacramento Railyards in downtown Sacramento for a future medical center to serve the city center.
"We are excited to take this step forward in our expansion plans and to be a major part of the revitalization of downtown Sacramento where thousands of Kaiser Permanente members live and work. Our new medical center will ensure that Kaiser Permanente meets the future health care needs of our members and the communities we serve," said Sandy Sharon, Senior Vice President and Area Manager, Kaiser Permanente Sacramento.
Kaiser Permanente purchased the land located north of Railyards Boulevard and west of 5th Street from Downtown Railyard Venture LLC, which owns the 240-acre Railyards. This is the third major investment the health care provider has made in downtown Sacramento. In 2016, it opened a Sports Medicine Center in Golden 1 Center where the Sacramento Kings players and Kaiser Permanente members are cared for with personalized evaluation, treatment, and rehabilitation. Last June, Kaiser Permanente opened the Downtown Commons Medical Offices on J Street, bringing outstanding primary and specialty care to the heart of the city.
"Thousands of people who live and work downtown will be able to access health services that span the continuum of care just steps from their jobs and homes. Whether they need emergency care, a routine health checkup, or highly specialized care, Kaiser Permanente will be the only provider downtown to offer the care when and where they need it," said Rob Azevedo, MD, Physician-in-Chief, Sacramento.
The announcement was made on January 22, 2019, to community and business leaders at the 21st annual State of Downtown breakfast held by the Downtown Sacramento Partnership. Kaiser Permanente was a presenting sponsor of the event.
Downtown Commons Medical Offices now open with free, validated parking on site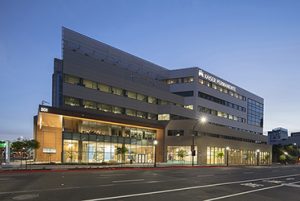 Now you have more options to stay healthy close to where you live and work. Our new Downtown Commons Medical Offices offers free, validated parking in the on-site garge and combine top doctors and medical technology with a convenient location, so you can get quality care that fits your life. Learn more about how we expanded to better serve our members at kp.org/downtownsacramento.
Cancer program earns full accreditation
The Commission on Cancer of the American College of Surgeons has granted three-year accreditation with commendation to the cancer programs at both our Sacramento and Roseville Medical Centers. Each has been designated a Comprehensive Community Cancer Program. The Commission on Cancer is dedicated to improving the survival and quality of life for cancer patients through standard-setting, prevention, research, education, and the monitoring of comprehensive quality care. We are proud that our cancer program meets or exceeds 12 Eligibility Requirements and 25 Standards for new programs, and maintains a level of excellence in the delivery of comprehensive, patient-centered care.
To learn more about our cancer program, visit our Cancer Care web site for members.
Are you planning international travel?
To prepare for your trip, you will have a personal telephone consult with a nurse, specifically trained in travel medicine, to assess your travel health needs. Your nurse will gather information, ask you questions, and make recommendations for your travel needs. You will have the opportunity to ask questions and participate in the decision-making. After the telephone consult, you may receive recommended immunizations and/ or have oral medications. You can typically come in the next day to receive your immunizations and pick up oral medication from our pharmacies. We serve adults over the age of 18.
Learn more about Kaiser Permanente International Travel Services.
Activate your kp.org Account
We are here to help you get healthy and stay healthy. Step one in your journey to wellness is to activate your kp.org online account. Benefits of an activated kp.org account include the ability to securely email your doctor, connect with your health record, view most test results, request routine appointments, and refill prescriptions for you and your family members. The process has never been easier. In a single session that takes just a few minutes, you can register for the website, create your personalized user name and password, and immediately begin using our menu of online tools. To get started, click here.